Tuscan Coast
The Tuscan Coast is a very diverse region, ideal for camping lovers. On the coast you will find long sandy beaches and towering cliffs.
The Tuscan coast is about 400 kilometres long and offers sandy beaches with adjacent pine trees, interspersed with rocks (especially between Livorno and Piombino). The coast slopes gently, the beaches are wide and sandy and the water quality is good. Ideal for enjoying a varied combination of sea, nature, art and historical hinterland. Due to a light sea breeze, the Tuscan beaches are also ideal for water sports.

Island Elba
The island of Elba off the coast at Piombino is perhaps the most beautiful that Tuscany has to offer. 2 towns that are worth a visit are Porto Ferraio and Porto Azzurro. The beaches are mainly found in cozy bays and in many places, it is possible to snorkel or dive. Napoleon has also discovered the beauty of Elba and it is still possible to visit his holiday home, which has been preserved as much as possible in its old state. Early in the season (May) you can enjoy the color splendor of the Mediterranean flora. Later in the season, the warmth of the sun intensifies the intense scents of the vegetation.

San Vincenzo and Cecina
Along the coast on the famous Roman road 'Aurelia' San Vincenzo and Cecina are two important seaside resorts. Cecina is a cosy village with many campsites and beaches on the seaside part 'Marina di Cecina'. It also has a great inland connection with Volterra, San Gimignano and Siena and therefore the ideal location if you want to combine beach and culture.
Highlights
Long sandy beaches
Florence, Siena, Pisa
Mouth-watering food and wine
Island Elba
Campings

Campsites

Campingplätze

Campeggi

Tuscan Coast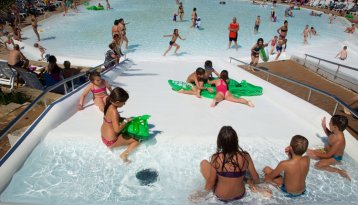 Laguna swimming pool
Beach within walking distance
Campsite with modern facilities
Ideal location to explore Tuscany
Perfect for families also with teenagers
Accommodaties
Accommodations
Unterkünfte
Alloggi
vanaf
from
Ab
da
€

€

€

93

€
p.n.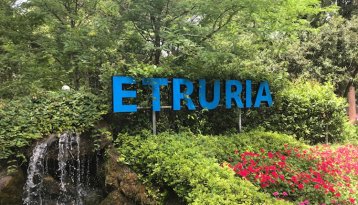 Etruria
Italy -
Tuscan Coast -
Marina di Castagneto Carducci
Direct at the beach
2 good restaurants
Nice animation and entertainment
Swimming pool with slide

Accommodaties
Accommodations
Unterkünfte
Alloggi
vanaf
from
Ab
da
€

€

€

39

€
p.n.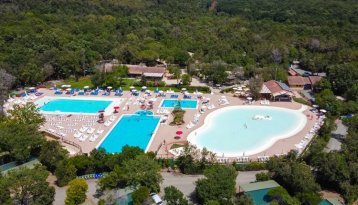 Many facilities
Surrounded by the forest
Multiple swimming pools
Near Florence, Siena en Pisa
Near Acqua Village

Accommodaties
Accommodations
Unterkünfte
Alloggi
vanaf
from
Ab
da
€

€

€

99

€
p.n.