Lake Garda
The Lake Garda (Italian: Lago di Garda) is the largest lake in Italy. It is a popular holiday location. Not only for its beautiful nature and historical villages, but also the water sports and the delicious Bardolino wines. The northern part of the lake is narrower and surrounded by mountains. Good food and drinks is an important part in the life of the Italians. Pastas, pizzas, fresh salads and delicious fish (trout) and meat dishes. Off course with a good glass of wine and an espresso with grappa or limoncello. And do not forget the delicious Italian ice cream!
Tips for trips
The west coast of lake Garda
This coast is best known for its green, relaxing surrounding, but that does not mean that there is nothing to do. There are many vineyards, nice villages ,you can drive into the mountains and there are many beaches and beautiful bays.

Sirmione
Sirmione is a romantic town on a peninsula on the southern shore of lake Garda. Besides the sulfur springs, which attract many spa guests, you will also see many families who simply enjoy the beautiful town with its many famous ice cream parlors. In addition, there are beautiful beaches and we recommend you to make a boat trip around the peninsula.

Desenzano
Desenzano is also named the capital of lake Garda. The town can be reached easily and is worth a visit. Visit the ancient ruins or enjoy the tranquillity in the beautiful nature. Desenzano has a lot to offer for all ages: you can practice many sports in the area, there are several discotheques and piano bars and in the center you can walk on the promenade or enjoy the merchandise in the many shops.

Salò
Salò is beautifully situated in the bay and has a lovely promenade with several bars and restaurants, museums and shops. In addition, there are numerous boats in Salò to explore the lake; grab one of the regular batelli, boats, or a fast aliscafo, hydrofoil. During a boattrip you can see the pretty gardens and villas that are not visible from the coast road.

The east coast of lake Garda
The eastern shore of lake Garda is also called the Costa degli Olivi, or the olive tree side of the lake. This part of the lake is very popular among tourists and everyone know cities as Bardolino and Lazise. Since many campsites, hotels and amusement parks have opened their doors here, it can be quite busy in certain parts of the year, but you can avoid this by driving into the wonderfully quiet hinterland of this beautiful side of the lake.

Peschiera del Garda
Seaside resort Peschiera del Garda is located on the south eastern part of Lago di Garda (lake Garda), where the lake merges into the river Mincio. The special buildings in this town give it a special atmosphere. Children get excited with a day in Gardaland, number 1 amusement park of Italy located just outside Peschiera.

Bardolino
The picturesque village of Bardolino, known for its good wines. In this village with a small harbor you will find many different shops, restaurants and wine bars. We recommend you to taste the Bardolino DOC-wine! The beach of Bardolino is perfect for small children because it slopes gradually.

Garda
The town Garda. In this beautiful medieval città you will see many palazzi, beautiful alleys and nice shops. A perfect place to alternate your beach holiday with some culture.

Malcesine
One of the many beautiful towns here is Malcesine. There are many winding roads around the small port of this city that lead to the most beautiful buildings, cafes and shops. From Malcesine you can take the cable car to the top of the mountain Montebaldo. An adventure itself with the most beautiful view on lake Garda as a reward.

The northern part of lake Garda
The North of Lake Garda is dominated by Riva with its immense fortress of the Scaligeri family. It is always windy here and therefore it is a very popular place for surfers. For hikers there are beautiful trips, for example to the 100-meter-high waterfall Cascata Varone. Arco, 5 km from Riva, is frequented by fearless climbing enthusiasts. The steep, vertical mountainsides are a paradise for free climbers.

Torbole
Another famous water sport place is Torbole. Due to the excellent winds (the Sover and the Ora) that blow here and the prohibition on motorboats, many windsurfers can enjoy themselves here. There are surf schools, surf shops and even if you want to rent a surfboard, you don't have to search long. Do you not like water sports? Then choose one of the many terraces or head into the mountains.

Limone
In the northwest of the lake, the town of Limone, built against a steep mountain wall, is certainly the most visited. There are many Limonaia, lemon nurseries, in the area, but the town itself is certainly worth a visit. From here you can also easily make the crossing to Malcesine.

In short , lake Garda is a versatile region where many people come back year after year. There is always something new to discover.
Highlights
The largest lake in Italy
Beautiful nature
Historical villages
Water sports
Delicious Bardolino wines
Campings

Campsites

Campingplätze

Campeggi

Lake Garda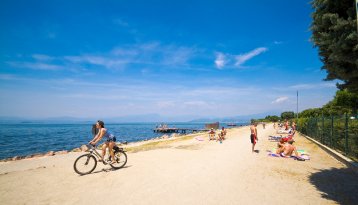 Lovely family campsite
Very close to Peschiera del Garda
Exciting swimming pools with slides
Family animation
Gardaland, Italy's largest themepark
Accommodaties
Accommodations
Unterkünfte
Alloggi
vanaf
from
Ab
da
€

€

€

29

€
p.n.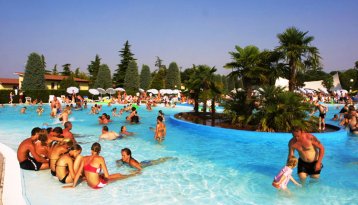 At Lake Garda with private beach
Take a stroll to the centre of Peschiera
Exciting Aquapark with lagoon and slides
Excellent animation programme for all the family
Gardaland & Sealife only 4 km. away
Accommodaties
Accommodations
Unterkünfte
Alloggi
vanaf
from
Ab
da
€

€

€

54

€
p.n.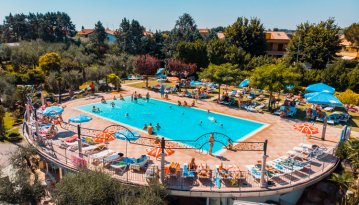 One to the top child-friendly campsites on Lake Garda
Stunning lake views!
2 swimming pools and slides
Children's club and mini disco
Accommodaties
Accommodations
Unterkünfte
Alloggi
vanaf
from
Ab
da
€

€

€

75

€
p.n.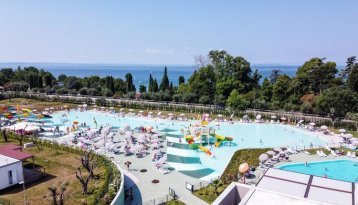 Central position on Lake Garda's "Olive Riviera"
Close to pretty towns of Lazise and Bardolino
2 swimming pools and private sandy beach
Professional animation program
Visit Verona or amusement parc Gardaland
Accommodaties
Accommodations
Unterkünfte
Alloggi
vanaf
from
Ab
da
€

€

€

49

€
p.n.