Mobilhome Lounge Deluxe XL
Pra' delle Torri
Vanaf
Ab
From
Da
€
99,-
p.n.
Mobile Home Lounge Deluxe XL with air conditioning at camping Pra delle Torri
For those who prefer luxury and more space Gustocamp has designed this mobile home (4 x 8,60m). A beautiful and spacious model where you will feel right at home. This luxury mobile home with two bedrooms is not only a lot wider, even higher and this you notice throughout the property. The bathroom and bedrooms benefit from this extra space. Besides a beautiful luxury kitchen it has a very modern bathroom as well. A second ensuite toilet is adjacent to the bedroom, which also has additional doors to the large terrace. Oversized sliding glass doors ensure that you are in a lot of light and with the doors open, you enjoy the outdoors all day.
There is a well equipped kitchen area with fridge-freezer, gas hob and everything else you need for a enjoyable holiday, including air conditioning.
lees meer
meht lesen
read more
leggi di più
Opslaan als favoriet
Add favourite
Zu den Favoriten
Aggiungi preferiti
Living-kitchen-dining area
This luxurious mobilehome has a spacious living / dining area with wel equipped kitchen including a full size fridge-freezer, microwave, coffeemaker (Nespresso). Every mobile home has plenty of storage space, not to forget your own bathroom and shower!
If neccessary the bank in the living area can be tranformed to a 6th sleep.
The airconditioning can also be used as a heater.

Bedrooms
The Lounge Deluxe XL has 2 luxurious bedrooms; 1 with a double Boxspringbed and 1 with 2 single beds and a pull down bed (for children up to 10 years) Moreover, the beds in this model are extra large (1,95 m) and offer ample space for all the family including the "tall" ones!
All beds come equipped with single duvets and pillows.
In the living area it is possible to transform the bank to a single sleeping place.

Bathroom
This mobile home also has a shower room and separate toilet with sink (en suite).
Terrace
Patio area with awning and lounge garden set
Model on picture may differ from the original. Subject to change.
Geniet van extra comfort met onze bij te boeken extra's. Wat dacht u van bedlinnen of een buggy? Wij regelen het graag voor u! De artikelen 'op aanvraag' kunnen alleen ter plaatse gehuurd worden. De andere artikelen kunt u tot uiterlijk 2 weken voor aankomst reserveren.Enjoy extra comfort with our selection of extras to maybe added. How about bed linen or even a buggy? We will be happy to arrange any of these for you! The items 'on request' may be rented only onsite. All other items can be booked up to 2 weeks before your arrival. Genießen Sie von noch mehr Komfort durch unsere Extras dazuzubuchen. Was dachten Sie von Bettwäsche oder einem Buggy? Wir regeln es gerne für Sie. Die Artikel "auf Anfrage" können nur vor Ort bei Verfügbarkeit gemietet werden. Alle anderen Artikel können sie bis spätestens 2 Wochen vor Ankunft reservieren. Se volete aggiungere qualcosa al vostro soggiorno controllate la nostra lista di extra disponibili, troverete di certo qualcosa a cui non avete pensato, lenzuola o perfino un passeggino... Saremo lieti di preparare per voi qualunque cosa presente nella lista che risponda alle vostre necessità! Gli extra "su richiesta"possono solo essere richiesti sul posto. Gli altri extra devono essere prenotati fino a 2 settimane prima del vostro arrivo.
Double bed linen € 24,00 per set
Single bed linen € 17,00 per set
Towels € 3,00 a pce.
Handdoekenset €5,00 (2 stuks)
Beach towel € 8,00 a pce.
Baby pack € 4,00 per day / € 22,00 per week
Baby cot € 2,00 per day
Baby bath € 2,00 per day
Bed rail € 2,00 per day
High chair € 2,00 per day
10 Nespresso cups ( only for Lounge Deluxe) € 5,00 (when available)
Damage waiver € 1,50 per day / € 9,00 per week
Highlights
Luxurious en modern!
For your glamping experience!
Extra wide and spacious mobilhome
Terrace with lounge garden furniture
Nespresso coffee maker
Recensies
Reviews
Kundenbewertungen
Recensioni
I didnt know it could get even more luxurious.
Similar accommodations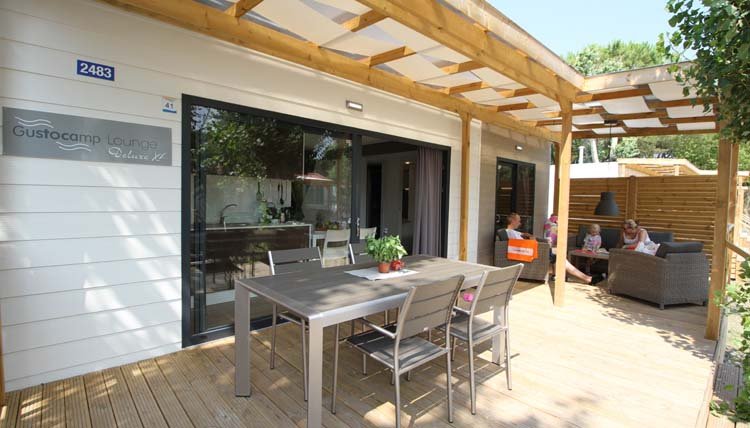 Mobile home Lounge Deluxe XL
Lounge furniture outside
mobile home even more luxurious
Nespresso coffee machine
Well equipped kitchen, including fridge-freezer
Extra large beds
vanaf
from
Ab
da
€

€

€

94

€
p.n.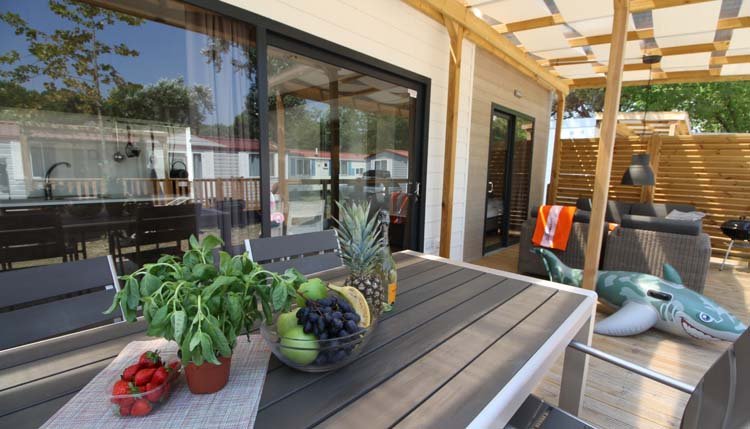 Union Lido
Italy -
Adriatic Coast -
Cavallino - Venezia
Mobile home Lounge Deluxe XL
mobile home even more luxurious
Nespresso coffee machine
Well equipped kitchen, including fridge-freezer
Extra large beds
Lounge furniture outside
vanaf
from
Ab
da
€

€

€

105

€
p.n.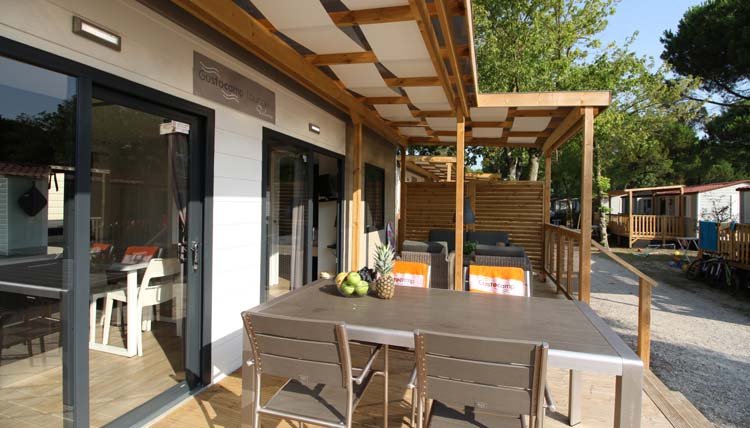 Mobilhome Lounge Deluxe XL
luxurious Lounge furniture
mobile home even more luxurious
Nespresso coffee machine
Well equipped kitchen, including fridge-freezer
long beds
vanaf
from
Ab
da
€

€

€

89

€
p.n.