Sardinia!
At a distance of about 190 kilometers from the mainland of Italy, you wil find the island of Sardinia. After Sicily , the largest island in the Mediterranean Sea. If you are looking for a guaranteed sunny destination, the Sardinia is the right place to be, with the subtropical climate. The beaches and bays are cooled by the 'maestrale', a pleasant breeze that blows across Sardinia. The island of Sardinia is a very attractive holiday destination with beautiful landscapes, impressive cities with many historic architecture, many harbors, beautiful beaches and surrounded by small islands in the Mediterranean Sea. The Sardinian cuisine is very diverse . As expected on an island, it has many seafood specialties (one even says 'the best lobster in the world'), but also local specialties such as roasted pig and wild boar sausage. If you want to take your own car on holiday, then you can travel by ferry to Sardinia. But daily several low-cost airlines fly at the airports of Alghero, Cagliari and Olbia. On the airports are several car rental companies.
Tips for trips
Nature
Boat Excursion to the versatile rock formations, caves and natural pools.
Diving and / or snorkeling at Isola di San Pietro.

Culture
Cagliari with charming shops and cafes.
Monte Sirai; archeological treasures at Carbonia.

Family trips
Day on the beach at Maladroxia.
Discover flamingos in the wild.
Highlights
Guaranteed sunny destination
Wonderful beaches and bays
Beautiful landscapes
Impressive cities
Sardinian cuisine is very diverse
Campings

Campsites

Campingplätze

Campeggi

Sardinia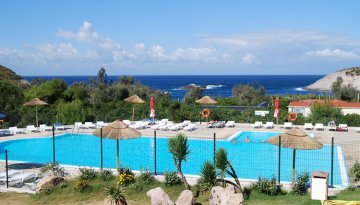 Tonnara
Italy -
Sardinia -
Sant Antioco
Excellent small family campsite
Breathtaking views over the ocean!
Swimming pool and beach!
Crystal clear waters
Spot dolphins from your terrace!
Accommodaties
Accommodations
Unterkünfte
Alloggi
vanaf
from
Ab
da
€

€

€

45

€
p.n.