Sardinia!
At a distance of about 190 kilometers from the mainland of Italy, you wil find the island of Sardinia. After Sicily , the largest island in the Mediterranean Sea. If you are looking for a guaranteed sunny destination, the Sardinia is the right place to be, with the subtropical climate. The beaches and bays are cooled by the 'maestrale', a pleasant breeze that blows across Sardinia. The island of Sardinia is a very attractive holiday destination with beautiful landscapes, impressive cities with many historic architecture, many harbors, beautiful beaches and surrounded by small islands in the Mediterranean Sea. The Sardinian cuisine is very diverse . As expected on an island, it has many seafood specialties (one even says 'the best lobster in the world'), but also local specialties such as roasted pig and wild boar sausage. If you want to take your own car on holiday, then you can travel by ferry to Sardinia. But daily several low-cost airlines fly at the airports of Alghero, Cagliari and Olbia. On the airports are several car rental companies.
Tips for trips
Sant' Antioco
The beautiful peninsula Sant'Antico is located all the way to the southwest of Sardinia and is connected by a bridge to the big island. With a surface of 109 Km2 it is the 4th island of Italy. Sant'Antioco has 11000 inhabitants ,who almost all live-in town.

Upon arrival of the bridge, a beautiful lagoon appears with, behind it, in a bay, the picturesque town of Sant "Antioco. This lagoon is populated by flamingos and herons all year round. Inland, the peregrine falcon flies above the beautiful marquise consisting of myrtle, rosemary, dwarf palm and juniper. The climate is sub-tropical with mild and rainy winters and warm and dry summers. Remains of nuraghi are visible on almost every hill, which can be viewed by taking a lovely walk through the beautiful nature that is in full bloom, especially in spring.

Calasetta
Calasetta is the second town on the peninsula of Sant Antioco. It has about 3000 inhabitants and was founded just like Carloforte by a group of Ligurian fishermen. There are 3 large beaches , Sotto Torre, Spiaggia Grande and le Saline. The advantage is that everything is close by such as a beach, center with terraces, restaurants and shops. If you are a fish lover, you can find good fish restaurants here. Carloforte is also a pleasant island with many fish restaurants.Gustocamp camping Tonnara is located further in the bay of Cala Sapone.

Oristano
The city Oristano is located to the west coast of Sardinia in a very fertile and fish-rich area. It is a beautiful medieval city and in nearby Tharros you will find remains of the classic city.

One of the sights in this city is the 13th century cathedral with an octagonal bell tower. In the San Fransesco church you will find a very beautiful carving of the crucified Jesus. A beautiful Gothic church is the Santa Chiara. Along the Piazza Eleonora are some beautiful palazzi and on the square itself is a statue of Eleonora d'Arborea. She not only wrote one of the first codes of law, but also fought for a long time to maintain the independence of Sardinia.

Around Oristano you will find beautiful sandy beaches but also hidden bays with crystal clear water which are rightly called swimming pools of the sea (piscine del mare). Mountaibike tours and long hikes are also possible.

Highlights
Guaranteed sunny destination
Wonderful beaches and bays
Beautiful landscapes
Impressive cities
Sardinian cuisine is very diverse
Campings

Campsites

Campingplätze

Campeggi

Sardinia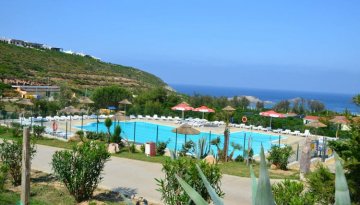 Tonnara
Italy -
Sardinia -
Sant Antioco
Excellent small family campsite
Breathtaking views over the ocean!
Swimming pool and beach!
Crystal clear waters
Spot dolphins from your terrace!
Accommodaties
Accommodations
Unterkünfte
Alloggi
vanaf
from
Ab
da
€

€

€

45

€
p.n.